When I first joined the Horticultural Society I popped into the Spring Show as I was passing. When I saw the flowers I thought to myself "I have daffodils at home, maybe I could exhibit some next year".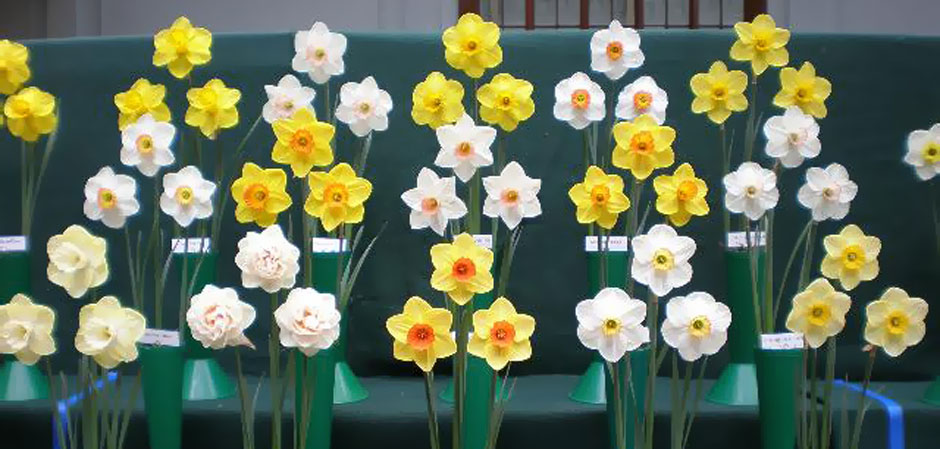 So the following Spring I duly went round the garden collecting my blooms, taking a tape measure so I could do the calculations ie" Large cup daffodils have a trumpet longer than one-third but not equal to the length of their petals". I spent hours measuring them. It seemed very fiddly at the time but as I knew nothing about buying daffodils from the different Divisions, I just went out and picked handfuls from the bank in the garden. It wasn't until I started staging them that I saw how truly beautiful they were but at eye level all the flaws and the imperfections were visible. Staring at the blooms for hours on end it began to dawn on me what the schedule was asking for; trumpet, long cup, short cup, double etc. I hadn't realised what a trumpet daffodil actually was! By concentrating it all became clearer. But minute nicks, crooked coronas, bent stems, downward facing flowers and many more defects were all a no no. I thought my blooms were perfect because I loved them so much but the judges didn't agree.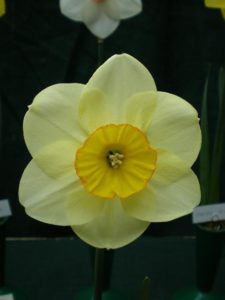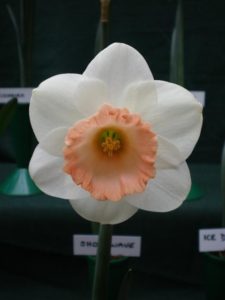 The next year I progressed to purchasing bulbs from reputable companies and hid the cheque stubs from my husband. But the satisfaction I gained from my flowers was immeasurable. Mind you I thought they were all perfect but again the judges disagreed.
I strive very hard for perfection. As my bulbs are growing in pots I spend back- breaking hours protecting them from the elements moving them in and out of shelters and greenhouses. The pots contain secret bulb compost mixed by a friend and I feed them a special bulb fertiliser.
I have had some success but not among the "big boys "so I have to get my fix by judging the blooms grown by other people. I just love Spring Shows with the heady scent of the narcissi, usually mixed with leeks that are on display as well in the vegetable classes!
written by Nicky Cornell
Save
Save
Save
Save