A warm, sunny evening in June found 20 Guild members enjoying John and Daphne Foulsham's beautiful garden at Vale End, Albury, Surrey.
Flanked on one side by a romantic mill pond – more a lake – and steep tree-clad slopes leading to Newlands Corner, its beds, borders, fruit garden and potager held us spellbound.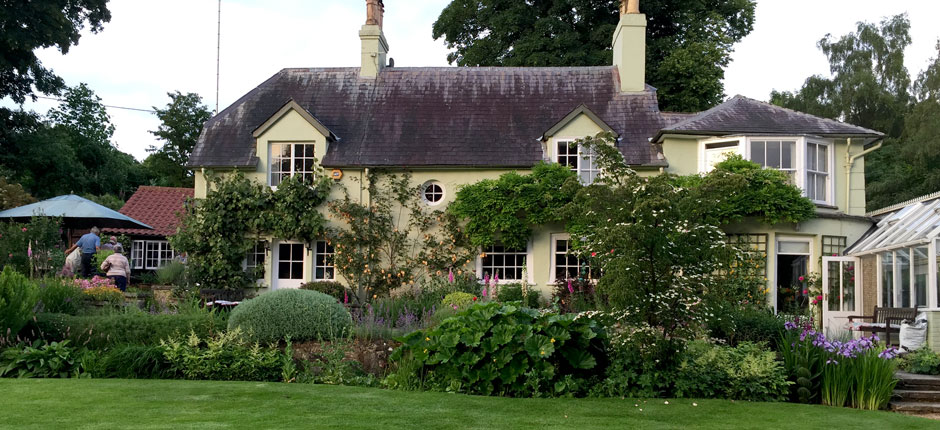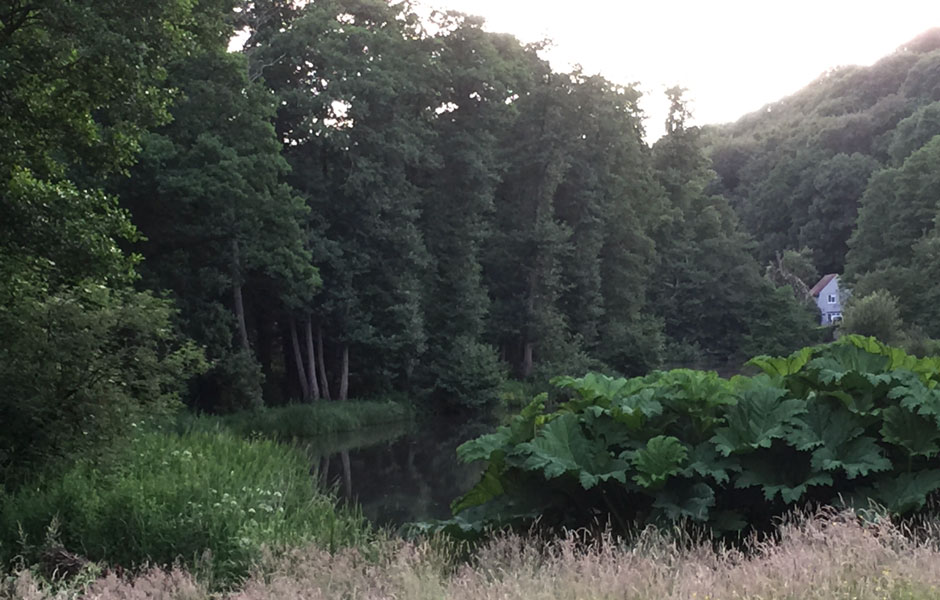 Cleverly and invitingly terraced and commanding a memorable view of the pond, roses, lilies and a host of other perennials and annuals welcomed us. We were riveted by a splendid clump of Japanese iris (
We were riveted by a splendid clump of Japanese iris (Iris ensata) resplendent with pinkish-mauve flowers. Entrancing too, was an association of bottle-green Euphorbia wulfenii and china-blue Campanula persicifolia. Large starry and amethyst globes of Allium christophii and a heavenly mound of pink, white-eyed 'Ballerina roses stopped us in our tracks.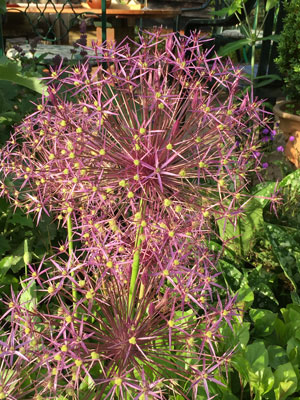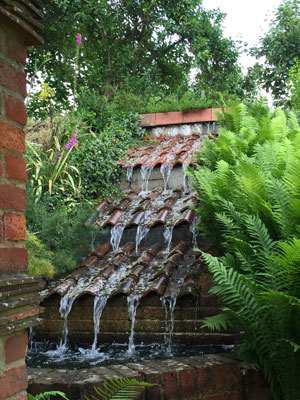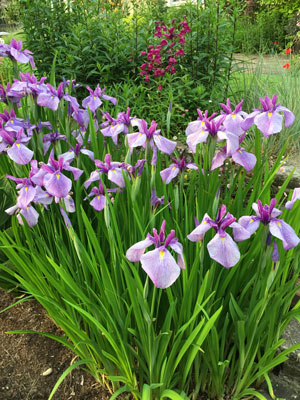 Allium christophii                                                                                                                      Japanese iris (Iris ensata)
A fan-trained Morello Cherry crops well against a north-facing wall and pleasingly designed steps take you to a fruit and vegetable cage bounteous with a wealth of varieties.
The Foulsham's are skilled gardeners. Not only is everything in rude health, but their quest for the unusual or simply appealing has resulted in a garden of many 'rooms', with twists and turns that beckon you from one focal point to another.
We loved the pantilled water cascade, the soothing sound of which transported us into a world rarely glimpsed elsewhere. We admired the newly constructed gravel garden bright with cushions of colourful alpines and other perennials.
Indisputably, John and Daphne are plants' people with an eye for design. Indeed, few other gardens have moved me more than theirs. If it had been showcased at Chelsea, the judges would have unreservedly awarded them a Gold… and Best in Show.
That's not all. After enjoying the garden, we were treated to a sumptuous meal on the terrace. What a wonderful evening we had.
Thank you, John and Daphne, for sharing your joy of gardening with compassion and humility.
Save
Save
Save
Save
Save
Save
Save
Save
Save